Special Activity by SS Guiding Stars Pvt ltd in collaboration with Xcelris Labs, at
Max Hospital Saket, on the 12th and the 13th of May 2018
Certificate Course and Workshop on the "Trends in Nutrigenomics"
The workshop was another feather in the cap in our effort towards spreading knowledge among Nutrition
professionals, regarding the upcoming trends in the field of Nutrition.
The workshop was held at the Auditorium of Max Institutions Ltd, Saket, on the 12th and 13th of May 2018 and was well attended, by around 50 dieticians from the Delhi NCR.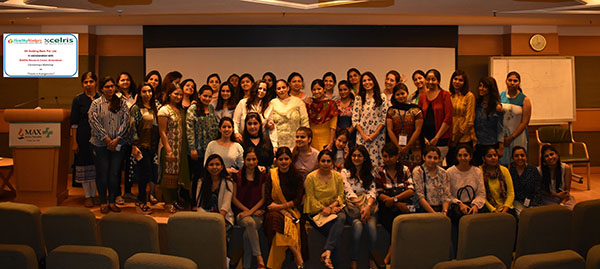 The training, was provided by Dr Usha S Jain, a Senior Counsellor – Medical Genetics & Patient Care with Xcelris Labs, India. Dr Usha has over 20 years of professional experience in the field and also in Counselling, Biotechnology & Psychotherapy. Dr. Usha Jain received her Master's degree with specialization in Human Genetics from Delhi University. She pursued her PhD in Molecular Cytogenetics from AIIMS, New Delhi. She had her training abroad related to the molecular diagnosis of various triplet repeat disorders including the prenatal diagnosis.
The workshop started on the 12th of May, with introduction about Xcelris Labs and Dr Usha S Jain, by Mrs Sunita Roy Chowdhury, Chief Nutritionist and Director, SS Guiding Stars Pvt Limited. During the two-day workshop the topics covered were: DNA and other innovative technologies to decode the DNA Gene Structure, Expression and SNPs, Effects of SNPs to design customized diet and training (exercise) plan, Application of Nutrigenomics into the
Holistic Nutrition Practice and review, Application of Genetic analysis for Athletic performance and customized training, Analysis of Genetic risk of comorbidities (Cardiac & elevated blood sugar) and discussion of case studies.
Please follow and like us: