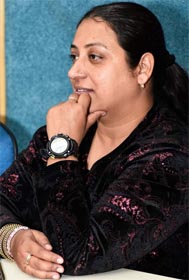 Meenakshi Pahuja, is  an International swimmer & Currently Swimming Open Waters World over. She has been a national medallist for eleven (11) long years and has won a Bronze medal for INDIA at 10th Asia Pacific Age Group Aquatic Meet held at Pusan, South Korea,1996.
In 2002, she joined Lady Shri Ram College for Women, Delhi University as an Assistant Professor in the Department of Physical Education. It has been 16 years of working for the promotion of sports and contributing to the field of Physical Education in Lady Shri Ram College.
As a child, she always wanted to explore open waters all around the world and make her country proud in the field of open waters.
However, once she had a responsible job, it seemed very difficult to make a comeback and swim as a player. But the desire to fulfil her childhood dream motivated her and she made herself comeback to the world of open waters in the year 2006.
In 2006, she made the comeback by swimming 19 kms at river Bhagirathi, Murshidabad, West Bengal in India. "Successful swim at, Murshidabad gave me the confidence" quotes Meenakshi.
In the year 2007 she qualified to swim Sri Chinmoy Marathon races, Rapperswil to Zurich and she became the first swimmer from Delhi to successfully swim Lake Zurich, (4kms), in 10 hours and 48 Mins.
In the years 2009 and 2010,she participated in Women (Open) Category in Open Sea-Swimming Competition – (OSSC-09 & 10) organized by the Indian Navy held at Mumbai, India.
In 2010, she was India's swimming ambassador at the world's only open water swimming stage race. she became the first Indian to successfully swim 5 lakes in 5 days at Tex Robertson Highland Lakes Challenge, Austin,2010 (Lake Buchanan, Inks Lake, Lake LBJ, Lake Marble Falls and Lake Travis) and secured third position in this challenge.
In the year 2011, she became the first Indian to successfully swim around Key West, Florida, USA (5 Miles). In the same year she bacame the first Indian to successfully swim Lake Travis Solo, Austin, USA, organized by American Swimming Association, (12 Miles).
In the Year 2012, she won a Bronze Medal at Labuan Sea Cross Channel (4kms), Malaysia 2012, becoming the first swimmer from Delhi to participate in Labuan Sea Cross Channel organized by Malaysian government. Successful NYC Ederle Swim, 17.5 miles race in August 2012 gave her a lot of confidence as she ranked fifteenth in the swim. This race was organized by NYC Swim, the premier organizer of swimming events in the waters around New York City and is recognized for its work by being inducted into the International Marathon Swimming Hall of Fame.
In 2013, she successfully swam 37th Annual All India 14 p.m. Long distance swimming competition on river Hooghly, Kolkata, India.
In the Year 2014, she successfully completed 5 miles swim around Manhattan, NYC ranking the Third Position. The race was held on 12th july'2014. It is the longest and premier event of the NYC, a full counter-clockwise circumnavigation of the island of Manhattan. This swim is also a part of International Marathon Swimming Hall of Fame. In the year 2014, she also attempted the Great English Channel and swam 25 miles of the entire course of English Channel.
In 2014 successfully swam the famous and Iconic swim of Robben Island south Africa, Cape Town. ROBBEN ISLAND – BLOUBERG covered the distance of 7.4kms in 12 degrees of water in extreme conditions. Robben Island lies in Table Bay, some 7.4km from the nearest land and within sight of Cape Town.
In 2016, she became first Indian to attempt Tampa Bay 24 miles swim but because of the severe weather the swim got called off after 3 Hours.
In 2017, she became the First Indian to participate in SCAR swim Challenge which consists of four long lakes. she successfully completed Saguaro Lake: a 9.5-mile (15.2 km) swim at 1529-feet (466m) elevation, Canyon Lake: notoriously the coldest start of SCAR, and ends 9 miles (14.4 km), Roosevelt Lake: The last reservoir in the Arizona S.C.A.R. Swim Challenge is Roosevelt Lake with arguably the most spectacular night-time open water finish in the United States. All the swims held day after another.
In 2018 she became the first Indian swimmer to accomplish Lake Constance, Germany starting from Friedrichshafen, Germany to Romanshorn, Switzerland. She had covered the 11.6 km distance in 5 hours 18 minutes 23 seconds
Alongside of her swimming career, working at Lady Shri Ram College, she is trying to promote and help students and sports persons to build career for themselves. she introduced sports for different abilities in the college and as a teacher it gives her immense satisfaction looking back (16 years).  Her students have excelled at International, national & state level. She has also written two chapters/ textbooks, published number of papers in National/ International Journals and participated in number of National/ International Conferences.
Meenakshi Pahuja Compiled and writes articles in the Annual Statistical Swimming Bulletin 2001 to 2016.
She has submitted dissertation to the faculty of Education of University of Delhi for the partial fulfilment of the requirement for the degree of Master of Physical Education Topic- "A SURVEY OF INDIAN SWIMMERS AT INTERNATIONAL CHAMPIONSHIP FROM 1900- 2000" (Submitted in May 2001).
Also submitted dissertation to the Directorate of Correspondence Courses Kurukshetra University, Kurukshetra   for the   partial fulfilment   for the award of   degree of    Master of   Philosophy   in Physical Education.  Topic – "A STUDY ON   MANAGEMENT OF SWIMMING FACILITIES IN DELHI" Submitted in December 2002).
She has also been conducting many workshops, lectures and seminars at different schools, colleges and universities on several topics such as Physical education, health & wellbeing, career counselling, avenues in Physical education and sports, swimming & health and sports management. She is associated with several NGO's, Sports Promotion boards Government/ Non-Governmental.
Meenakshi Pahuja has been honoured by the following awards recently:
Third time recognised by the Limca Book of Records, this time as the First Indian swimmer to successfully swim Lake Constance,
For the second time, she became Lima Book Record holder in the year 2016. Before this she got this award in She was awarded with two certificates in 2013 for being the First Indian to swim Manhattan 28.5miles race successfully and in 2016 for successfully swimming the Famous Iconic Robben Island, South Africa.
Awarded the prestigious PHD Chambers Sports Achievers Award for open waters- August-2016-New Delhi
Awarded Major Dhyan Chand Sports Award for excellence and contribution in open waters and swimming- October '2016, New Delhi.
Indian National Teachers Congress (INTEC) award for BEST Teacher -2016- University of Delhi. she was recognized for her contribution to university of Delhi as teacher and achievements in the world of open waters. September-2016.
Meenakshi Pahuja's AREA OF SPECIAL INTEREST
Management, Organization & Administration of Sports & Physical Education.
Women & sports
Sports Journalism, Sports Medicine & Sports Psychology, Teacher training , Contribution of Physical Education to Public Health, Fitness & Sports Promotion
Organization of Co-Curricular Activities.
Organization of Sports Championships/Festivals.
Promotion of Sports/ athletes
Swimming and Para sports ( sports for different abilities)
Social Welfare
 She has been blessed to be able to serve, help and contribute to the field of swimming and to take the work of her Great father, Mr.V.K. Pahuja forward. Her father started the Statistical bulletin in swimming which is a compilation of records (State, national & International level). This annual publication is the guiding force for swimmers, coaches, administrators, Government, sports boards, federation, schools & Universities.  He brought 35 Edition of this statistical bulletin in his life span and Meenakshi supported her father for nine years as co-author. With his passing on she has continued the Swimming Statistical Bulletin also known as the Bible of Indian Swimming and brought 36th Edition of the same out on time.  Every year V.K.Pahuja Swimming Statistical Bulletin is released by an eminent personality and is distributed free of cost to swimmers, coaches, administrators, Government, sports boards, federation, schools & Universities.
Meenakshi hopes to continue her passion for water and explore many more open water bodies and to make her country proud around the world. She also hopes to make a difference by helping others achieve and pass on her rich experience to the next generation.
She owes to her great parents  Mr. V.K.Pahuja, (father)  & Mrs. Komal Pahuja (mother), & adorable sister, Dr.Supriya Pahuja, & all those who stood by her during the toughest phase of her life. Above all god!!
Please follow and like us: