Highlights:
Let's celebrate this year Diwali, keeping health as a priority by choosing right food, so that your palate can enjoy the taste & your body can rejuvenate with right choice of nutrients. It is a melt-in-your mouth halwa, beautiful color & texture of halwa makes u fall in love with it. For kids, you can serve with a dollop of vanilla ice cream.
One can skip sugar by adding little amount of zero calorie sweetener.
Bingo! For me, it tastes yummier than gajar halwa.
Special Tips:
Beet root itself contains so many essential vitamins & minerals, combining other ingredients can only increase its nutrient quality.
Beetroot contains betaine, a substance that helps prevent or reduce fatty deposits in the liver. Betaine may also helpful in protecting your liver from toxins.
One of the best nutrient-dense superfood as research reveals, the beet's health-boosting effects on the mind and body. Adding more beets to your diet can help boost longevity, from aiding weight loss to preventing chronic diseases, like cancer.
Nutritive Value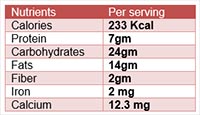 Ingredients      
Beetroot  
Toned milk 
Fresh malai/cream 
Sugar 
Ghee 
Cashew 
Raisins 
Green cardamom powder 
No of serves-3
200 gm
400ml
10gm
15gm
15gm
30 gm
15 gm
2gm
Method:
Clean, peel and grate the beetroots.
In a thick bottle deep pan boil milk, after that reduce the flame and allow to thicken on low flame, meanwhile prepare other ingredients.
In a non-stick pan or kadai, add 1 tsp of desi ghee. Fry cashew on low flame for 1-2 min, add raisins cook till popped up. Remove from the kadhai.
In same pan, add more ghee & sauté grated beetroot for 8-10 min. on low to medium flame, Stirring continuously.
Once the oil starts leaving the sides of the beets and the beets have a sweeter caramelized scent to it, add it into boiling milk.
Keep stirring in between on low to medium flame, add the ghee and the sugar to the mixture. Cook the beets in the milk, till it all comes together and the ghee starts leaving the sides of the halwa in the pan. Cook for a few more minute, don't stop stirring, over low heat and remove from heat.
Move to a serving bowl, top with fried cashews and raisins. Serve warm.
Please follow and like us: