Highlights:
A healthy replacement for the unhealthy processed cheese and butter.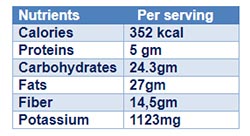 Avocado is popular among nutritionists and in metro cities. Making recipes using avocado is the simplest & the easiest way to prepare in no time.
Avocado is also known as "Butter Fruit" because of its texture, it's a healthiest way of replacing butter. Its different versions go well with sandwiches, burgers, salads, smoothies & all unhealthy cheesy, creamy, oily dips can be easily replaced with Guacamole.
There are various versions of guacamole, one can add or combine flavors & ingredients of one's own choice. I simply love mashed avocado with salt & pepper seasoned on crispy toast, it serves my purpose of having nutritious meal on a frantic day
Special Tips:
Guacamole is packed with potassium, loaded with dietary fiber & full of heart healthy fats, thus is beneficial in many chronic conditions such as high blood cholesterol, constipation, high blood sugar, heart disease, diabetes, obesity and various cancers.
The combination of ingredients in guacamole contain Vitamin C, which boosts immunity and improves your overall health.
Potassium is an important mineral that most people don't get enough of. Avocados are very high in potassium, which helps to maintain a healthy blood pressure level.
Avocado reduces/relieve from the symptoms of arthritis. It also helps to reduce the weight.
As it high in potassium, people with renal problems should avoid it
Ingredients
Avocado                                                 

Garlic                                                      

Coriander leaves                              

Lemon juice                          

Salt                                                 

Roasted jeera powder (optional)         

Green chilies chopped (optional) 

Onion finely chopped (optional) 

Tomato finely chopped (optional) 
No. of serve: 2-3
200 gm
10 gm
1 tsp
15 ml
acc. to taste
1 gm
1 tsp
25 gm
25 gm
Method:
Cut the avocados in half and remove the seed.

Use a spoon to scoop out the flesh and put it into a bowl.

Add all the other ingredients to the avocado butter & mix well.

Serve immediately, because it oxidizes and goes brown pretty quickly. You can eat it with chips, serve it on toast or use it as a dip for fresh veggies, like white sauce
Note:
How to Select, Ripen & Store Avocado:
Ripe avocados are typically a dark, almost black color with hints of green.

Always test it by touch too, not just by its color & appearance. A ripe avocado should be firm on gentle pressure, but shouldn't feel over soft or mushy.

It is a good idea to choose them at various stages of ripeness, from hard to soft to full ripe one.

If you purchase an avocado that hasn't ripened yet, place it in a brown paper bag that helps the avocado ripen in 3 to 4 days. To fasten the ripening process just keep avocado in a paper bag along with banana or apple.

When you remove the avocados from the bag, test their ripeness by pressing against the skin lightly. It should be tender but not mushy, check the avocado in between while still in brown paper bag, if it tenderizes keep it in the refrigerator & store up to a week.

Don't throw the seed, if you don't plan to finish the full avocado, you can store it in the refrigerator putting the seed with it, this will keep the avocado from browning & just seal it in an airtight container, keep it in the fridge for not more than 2 days.
Please follow and like us: