Highlights:
Bad mouth odor is a nightmare & & a complete turn off for all.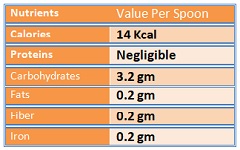 Digestion is a process of breaking down food particles into individual nutrients so that they can be absorbed into the blood. However, sometimes if digestion process goes wrong at any stage, it results in many side effects. In many cases, bad breath is also caused by poor digestion.
This refreshing, sweet and aromatic mix at the same time eases bad breath, helps in digestion, boosts immunity and tastes amazing. Other than these remedial benefits it has many other health benefits too.
Special Tips:
Fennel seed are very rich source of potassium & regulate blood pressure, comfort the gut & reduce the gastrointestinal discomforts, may also be helpful in asthma.
Fennel seeds are said to be helpful in purifying blood and help maintain good eyesight.
Figs can be a good sweet replacer for diabetic people. Adding figs gives a slight sweetness & balance the flavour of the mix.
Dry coconut itself contains many health benefits to the body, It helps in functioning of brain & helps in preventing anaemia
This mouth fresher digestive mix is a packed with vitamin B & C.  It also contains good amount of selenium, calcium & zinc, copper, iron, magnesium & manganese. Along with this it also has antidepressant, antioxidants & anti-cancerous properties.
It is a great substitute for people having sweet tooth after meal. Regular consumption of this digestive mix can help to remove the toxins from the body and give a boost to your health. Add them to your daily diet and you will see the difference!
Grab & Munch it daily after every meal.
Ingredients

Dhaniya dal/ Dhana dal
Milky supari
Misri/ Rock (sugar) candy
Saunf /Fennel seeds)
White til/Sesame seeds
Grated dry coconut
Dry Figs
Total Quantity 350 gm

50 gm
50 gm
100 gm
50 gm
20 gm
30 gm
50 gm
Method:
Dry roast dhaniya dal, saunf, sesame seeds, grated coconut separately in a pan on low flame for 4-5 min, stirring continuously. Keep aside to cool.
Add chopped dry figs & misri to the roasted ingredients.
Mix all the ingredients together well.
Store the homemade mouth freshener in an airtight container in a cool, dry place in order to to retain its flavour, crunchiness and increase shelf life. It can last up to 3 to 4 months.
Munch on 1 to 2 teaspoons after a meal or any time you want to freshen your breath.
Note:
Store in a airtight jar/container & shelf life
Please follow and like us: