Highlights
One sip of this smoothie and you can't resist to wait to finish the whole drink. It's cool, refreshing and packed with flavor and nutrients!
Coconut milk give it a creamy texture and richer flavor.
This smoothie will definitely going to hit your kitchen and give you full satisfaction of morning & evening hunger & craving.
Getting lots of portions of fruit and veg into your day makes you feel good and makes you more positive about your life – that's proven scientifically.​
Special Tips
Fruits smoothies can be an easy way to nourish your body with essential nutrients. Making your own smoothies can help prevent fruit from going to waste, while providing benefits that will keep you on the right track towards good health.
The soluble fiber found in fruit helps slow digestion and may help control blood sugar and lower cholesterol.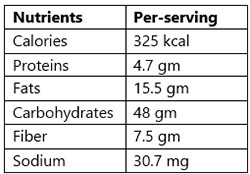 Ingredients                          No. of Serves- 2
Strawberries                                100gm
Banana                                         100 gm (approx)
Coconut milk                              120ml (optional)
Mango chunks                            100 gm
Fresh Pineapple chunks           100gm
Kiwi chunks                                80-100gm
Roasted & ground seed mix    10gm
Curd (thin)                                 (optional)
Mint leaves                                 5-6
Black salt                                    ¼ tsp
Honey                                          15ml
Method
Mix together all ingredients, blend them into smooth consistency, add thin curd (if required) to get the desired consistency.
Serve cold with some attractive garnishing.
 Note:
For Seeds mix: Dry roast all seeds (sunflower, pumpkin, Flax, melon, chia) & ground them in fine powder. Store in airtight container in refrigerator.
Please follow and like us: