Highlights:
Hareera is super tasty & nourishing food, increase the stamina and gives strength to the women post delivery. So, It is the best thing to be given to a new mother, in the evening and morning for at-least, a week post delivery.
The postpartum period or lactating period begins soon after the baby is born and ends when the mother's body has returned close to its pre-pregnant state.
In order to regain & rebuild their strength after giving birth, the mother deserves special attention & care. Nutrition and plenty of rest are essential to new moms to help their bodies recover.
Special Tips:
The combination of ingredients in Hareera makes it a powerhouse of energy. It has all the micro & macro nutrients, required soon after the delivery to meet te body's requirements.
Turmeric helps heal internal wounds.
Ajwain (carom seeds) helps soothe pain due to gas or indigestion.
Dry ginger powder also known as sauth, offers health benefits, including anti-inflammatory effect.
Cumin seeds are believed to increase secretion of milk in lactating women. It is a rich source of calcium and iron.
Dry fruits are rich in Proteins, carbohydrates, omega 3 fatty acids, fibre, vitamin B12 and E and contain minerals like magnesium, copper, manganese, potassium, calcium and zinc. Dry fruits can be used in many recipes. If you aren't in the mood to cook they make a great snack to munch on. As there are so many nutrients packed in them, they becomes an ideal food to have while recovering from childbirth
Jaggery is not only a good source of energy but also helps to recover & maintain a healthy system after deliver.
t cleanses the body, boost immunity, purifies blood, prevents constipation & anemia.
.
      Ingredients No.                                                  of Serving-5
Makhana/Fox Nuts                                             30gm
Badam/Almonds                                                 30gm
Kaju/Cashew                                                        20gm
Kishmish/Raisins                                               20gm
Chironji/ Charoli nut                                         10gm
Magaj/Muskmelon seeds                                 10gm
Grated Dry coconut                                           20gm
Chuara/Dry Dates(seedless)                           20gm
Sonth/Dry ginger Powder                               2gm
Jeera/cumin seeds                                           4-5gm
Ajwain/carom seeds                                        4-5gm
White pepper powder                                     2 gm(optional)
Desi Ghee                                                          2 tsp
Jaggery                                                              160gm
Water                                                                1 liter
Method:
Boil water & add jaggery in a pan, allow dissolving completely. Strain to remove the dirt, if any.
Chop dry fruits.
Take a thick bottom pan/kadhai, add 1 tsp of clarified butter/desi ghee in it. Turn on the gas and heat it.
When desi ghee is ready, turn the flame of gas to low/sim. Add all dry fruits and roast them together for 10 min, to avoid burning stir continuously.
Coarsely grind ajwain & jeera.
Transfer roasted dry fruits in a plate. In same kadai melt remaining ghee on low flame, add jeera, ajwain & haldi, saute it for few seconds.
Add jaggery syrup & ginger powder.
Bring it to a boil & add roasted dry fruits . Allow to cook for 40-45 min.
Add more water, if required.
Hareera is ready. Don't serve it hot. Serve warm.
Notes: (Shelf life) -Store in an airtight container in the refrigerator for a week or 10 days.
Nutritive Value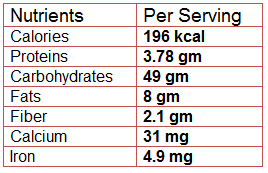 Please follow and like us: