Highlights:
Every bite of this version of rajma chawal is a delicious surprise.
You can make lunch/dinner more fun by setting out all of the toppings so that everyone can build their own burrito bowls with their choices. This is the best way to serve standard/boring meal into more healthy & nutritious way. The spices on the beans give them interesting flavour, while the corn adds a nice touch of natural sweetness, avocado gives nuttiness & mint yogurt adds extra creaminess.
Special tips:
The combination of bowl contains all essential nutrients that help in the growth and development of children. They are high in calcium and potassium, which are important for bone strength. They also contain protein, an essential building block for proper growth and development.
The best part about this recipe, that it contains protein, fiber, iron, and antioxidants – all of which are quite essential, especially during pregnancy and growing age.
Kidney beans are richest source of plant proteins, the fiber in the beans boosts digestive health.
Ingredients
Small Red bean/ Rajma(raw)            120 gm
Avocado                                                100 gm
Cucumber                                             40-50 gm
Tomato                                                  100 gm
Sweet corn                                            80-100 gm
Basmati Rice(raw)                                 100 gm
Mixed Whole spices                               1 tsp
Green Olives                                            30 gm
Green Coriander                                     5 gms
Mint Flavoured hung curd                     50 gm
Jalapeno                                                  optional
Iceberg Lettuce                                      optional
Pickled gherkins                                    optional
Salt acc. to                                             taste
Chilli powder                                        ½ tsp
Cumin Powder                                      ½ tsp
Chat masala                                         ¼ tsp
Lemon juice                                          10ml
Olive oil                                                 10 ml
Nutritive Value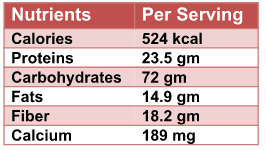 Method:
Soak rajma overnight or 7-8 hrs. in enough water.
In a pressure cooker heat oil, add whole spices then add rajma, salt, chilli powder, cumin powder & pressure cook for 20 minutes. First whistle on high flame then simmer for next 15 minutes.
Soak rice for 30 min in double amount of water. Add ⅓ tsp salt, ½ tsp oil & steam.
Mix together salt, remaining oil & lemon juice in a bowl. Slightly toss veggies in salad dressing (each separately)
Divide rice among two bowls. Top with half bean, corn, tomato, cucumber, olives and avocado mix.
Garnish with Mint yogurt, coriander leaves, optional toppings (jalapeno, gherkins, lettuce) or toppings of your choice.
For Mint Yogurt:
In a bowl add hung curd or yogurt, add 1 tsp mint puree,chat masala & a pinch of salt. Mix well.
Use it as a dip or topping.
Note: One can add some shredded chicken breast.
Please follow and like us: