Highlights
 As many are celebrating Ramazan this month, this drink is a good to start with or to break after long hour of fasting.
One can also start their normal routine day with this healthy drink or have it after workout or can be replaced with afternoon or evening snacks.
Good for growing kids, adolescent girls, those who want to maintain a good healthy weight  & for pregnant & lactating mothers.
 Special Tips:
 This drink is good source of iron & cooper, thus increases the production of hemoglobin.
Dried apricots contain three times more potassium than bananas. Potassium is helpful in lowering blood pressure & protects against heart disease. It also helps in proper muscle function and regulates the heartbeat.
It also contains vitamin A, a powerful antioxidant that helps to remove free radicals and maintain the health of body cells and tissues.
It is good for digestive tract, helps maintain a proper hydration level in the body & helps treating constipation, also helps in curing after effects of viral fever.
As it helps in neutralizing acids in the body, so it's good to start your day with some apricots or the smoothie/shake.
It can be served as an excellent snack instead of eating any other sweet.
Consume daily before, during pregnancy and lactation as it can be helpful in curing infertility, hemorrhage & spasms.
It contains special nutrient Vitamin K, that is required for blood clotting in case of injuries and to prevent excessive bleeding.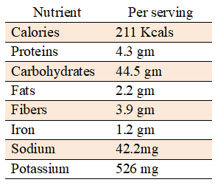 Ingredients:                                                     No. of serves:                          
Dried apricot/ khubani                            70 gm
Raisins/ Kishmish                                     20 gm
Raw cane sugar/Khandsari                    20 gm
Milk                                                             150 ml
Water                                                         1 cup
Method: 
Soak apricot & raisins separately, each in ½ cup of water at least for 4 hrs.
Blend soaked, swollen raisins & apricot in a blender jar & blend to form a smooth fine paste.
Now add milk, raw cane sugar in same blender, again blend with the puree until it mixes well. Add more milk or water, if required.
Serve cold or at room temperature.
Note:
In any smoothie/ shake, one can replace milk with curd or curd with milk.
Please follow and like us: