Highlights
A pocket-sized nutrient-rich bars that will help to silence your hunger pangs anytime of the day – during workouts, as midday snack or on-the-go meal replacement or simply when you are "hungry". It is a power packed wonder, made with nutty oatmeal base, honey, raw cane sugar, seeds and other desirable ingredients, relish the crunch and chewiness with every bite. These delicious Nutri Bars are good sources of vitamins, minerals and fibre that help to regulate digestion, control cholesterol and sugar levels and also help to provide you with a healthy immune system.
The market for energy bars has seen a tremendous rise and the supermarkets and online shops are overflowing with varieties and types of the energy bar- the low-calorie nutrition bars and high calorie, high protein energy bars, the gluten-free, vegan and organic nutrition bars to low fat and cholesterol-free varieties.
Choosing a healthy nutrition bar is important criteria when it comes to health benefits because most of the bars available in the markets are just sugar-filled candies replicating a healthy energy bar. 
Exercise can deplete your stores of energy, an energy bar can help you restore it back energy. Energy bars will refuel your glycogen stores after an exercise.
Special Tips:
It is good source of healthy fats like Omega 3 fatty acids.
It contains all daily essential vitamin & mineral like vitamin E, folate, B group vitamins, calcium, magnesium, phosphorus, zinc, copper, manganese and selenium.
It also helps increase energy, prevent anemia, and promote proper organ function.
It contains good amount of both soluble and insoluble fiber. It also gives relief from overeating & helps in managing weight.
Granola Bar can be a great brain food option for you.
Ingredients           Total 280 gm/ No. of serves-9

White Oats                    50 gms
Brown sugar                100 gm
Flax seeds                    10gm
Chia seeds                   5 gm
Dry cranberry             20 gm
Almonds                      20 gm
Pumpkin seeds           20 gm
Sunflower seeds         10 gm
Honey                          20 gm
Salt                               a pinch
Ghee                            2 tsp
Nutritive Value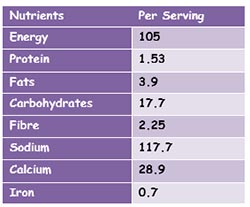 Method:
Heat a nonstick pan. Add 1 tsp ghee & add roughly chopped almonds, roast for 2 min on slow flame, add other dry fruits one by one except cranberry & chia seeds.
Roast all dry fruits for 8-10 min on low flame.
Then, add oats and again roast for 5 min on low heat. If needed, add few more drops of ghee. Switch of the gas & keep aside.
In another nonstick pan, add 1 tsp ghee and Brown sugar, allow it to melt on low flame, stirring continuously.
Meanwhile grease a baking tray with few drops of ghee & line the tray with parchment paper (for easy removal later)
As sugar started melting add honey increase the flame to medium, bring it to boil. This processes will take 15 min.
Switch off the flame and immediately add all roasted oats & dry fruits, mix well while it is still hot.
Spread evenly in baking tray. Refrigerate until set up enough to cut, approximately 15-20 minutes at least. Cut into 9 bars and either individually wrap or store in an airtight container.
Please follow and like us: