Highlights
Dora cakes or dorayaki pancakes are inspired from the cartoon series Doraemon. Kids are crazy for this cartoon character. Like other kids my daughter is also a huge fan of this cartoon & always ask for dora cake, she loves everything about her favorite doremon. So I tried making this recipe with some healthy twist of almond flour & oat meal flour. The pancakes are like sandwich where a mixture of bean paste is used as the filling but here I replaced with homemade chocolate spread & dazzle some maple syrup on top. A good meal replacer, anytime snack for kids and for their mommies and daddies too.
Special Tips:
Dora Cakes are a hearty option, providing a high quantity of carbohydrates and a range of vitamins and minerals, but pancakes are relatively high in fat, calories and sodium. So you need to plan accordingly in your kid's menu plan with occasional servings and replacing with some healthy & interesting ingredients.
A serving of these pancakes are a good source of phosphorus and calcium. They help in boosting teeth & bone strength and your body's ability to make RNA and DNA, and helps generate energy in every cell.
This combination of ingredients together provides a good source of iodine and riboflavin, vitamin C, thiamin, vitamin B6, niacin, vitamin B12, magnesium, zinc, copper and iron and amazingly a good amount of proteins & fibers.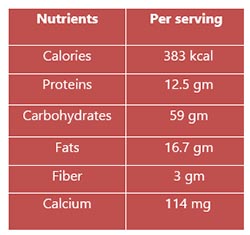 Ingredients              No. of serves 3
Maida                                       50 gm
Almond flour                         40 gm
Oat flour                                 40 gm
Butter                                      4-5 gm
Egg                                           1 egg
Honey                                     15 ml
Powdered brown sugar        20 gm
Vanilla essence                     1 tsp
Baking soda                           1/2 tsp
Baking powder                       ½ tsp
Salt a pinch
Buttermilk                             100 ml
Chocolate spread                  50gm
Method
In a large mixing bowl, add eggs, powdered sugar and vanilla essence beat it together with help of the blender till sugar dissolves completely.
Combine milk and vinegar together & keep aside for 10 min.
Combine all dry ingredient in a separate bowl & mix them well
Now combine all ingredients together except chocolate spread & butter, blend them nicely and form a smooth batter but not too watery in consistency.
Heat a non-stick pan over medium heat first, smear butter on pan and then wipe it off with the Kitchen towel to make the pan smooth.
Take a standard size spoon for measurement i.e ¼ size measuring cup so that they come out evenly every time.
On low flame, pour the batter over the pan using measuring cup and wait until the bubbles starts to appear on top say about 3-4 minutes.
Gently flip over on another side and again let it cook for 40-45 seconds. When the other side is also cooked, it's ready for plating.
Spread a thick layer of chocolate spread when cake is completely cool down and then close it with the other cake with the brown part facing up.
Serve with some fresh fruits, chocolate syrup or maple syrup.
For chocolate spread:
20 gm Semi sweet dark chocolate
30ml milk
10gm powdered sugar
10 gm salted butter
10 gm cocoa powder
Method:
In a thick bottom pan melt butter & dark chocolate together on low flame. Allow them to melt completely while stirring occasionally.
In a bowl add cocoa powder, powdered sugar and mix together with water.
Add the mixture in melted chocolate and mix well, allow to cook for 2-3 min on low flame.
Let the liquid cool at room temperature, it will get thick after it cool down and turn into a nice thick creamy spread.
You can keep the spread in refrigerator for a month in airtight jar.
Visit – Best Dietician in Delhi
Please follow and like us: