Highlights:
This creamy mango chia smoothie with coconut milk makes a healthy, nutritious & refreshing drink, packed with healthy goodness and tastes amazing for athletes both for kids & adults. Simple, easy and effortless recipe makes a healthy mango smoothie using just 4 ingredients.
It's a perfect drink after heavy sports practice. One can have it in breakfast or in evening as well.
 Special Tips:
It is a cold refreshing smoothie, good to beat the heat this summer.
Good for the athletes and heavy exercise routine individuals, as it provide energy and soothe their stomach too.
Most of the calories are through the coconut which can help lower the cholesterol levels, improve blood pressure, and prevent heart attacks or a stroke.
Coconut milk also contains fat called lauric acid, which is a medium-chain fatty acid that is easily absorbed and used by the body.
Person with lactose intolerance or allergy to nuts can also take coconut milk easily as it is lactose free. But it should be taken in less quantity or mixed with some recipe as it is high in calories too.
Mangoes contain good amounts of vitamin A, vitamin C, and flavonoids like betacarotene, alphacarotene.
Mangoes are fat free, sodium free and cholesterol free.
Chia seeds have a good amount of fiber, are rich in omega-3 fatty acids, calcium and iron. Even 5 gm chiaseds have about 2 gm fiber, so are very good for the stomach
A wholesome and delicious food for kids which they can't refuse to have.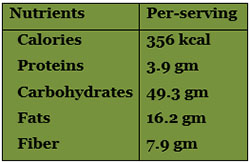 Ingredients:                                        Serves-1
Ripe mango peeled & chopped              150gm
Coconut milk                                             120ml
Chia seeds                                                   5 gm
Honey                                                          20 gm
Ice cubes                                                     4-5
 Method:
Place all ingredients in a blender and blend until smooth. You can replace coconut milk with yogurt or almond milk.
Add ice cubes & blend for few more seconds
Serve immediately with  a  tea spoon of  soaked chia seeds on top or garnish with mango slice & mint sprig.
Note: Soak chia seeds in ½ cup water for 2 hours. Soaked chia seeds can be stored in an airtight container for a week.
Please follow and like us: