Highlights:
Ragi is a whole grain that is gluten-free and a staple in South India.
Ragi Kanji is a healthy and delicious Indian drink made with super grain "Ragi". It is perfect for breakfast or for sipping throughout the day for those looking for weight loss, Diabetic patients, for kids & toddlers.
This recipe is one of the beverages made using ragi flour and buttermilk. The flour is first mixed with water and cooked till the raw smell is gone. This mixture is then cooled and added to the buttermilk.
It is a super-rich food contains perfect balance of protein, vitamins, amino acids, makes it a whole meal by itself.



Special Tips:
Benefits of ragi are numerous and it is a highly nutritious loaded with many vitamins, calcium, proteins, iron and other minerals. It is rich in fiber and contains very less unsaturated fat that makes it a perfect food for weight loss.
 Is rich in fiber, it help to get rid of body toxins. The high amount of dietary fiber combines with water and keeps the stomach fuller for a longer period of time.
Ragi is a powerhouse of health benefiting nutrients that help in reducing weight and also acts as a

treatment for multiple diseases like Brittle Bones, Osteoporosis, Anemia and Diabetes

.
Regular consumption of Ragi reduces the risk of Diabetes Mellitus. The high level of fibers in Ragi slows down the pace of digestion thereby helping in lowering blood sugar levels. It also has a low glycemic index that makes it an ideal snack to preventlate night food craving and help to maintain blood sugar within safe range.
Ragi works as a super calcium supplier for growing children and aging people. It helps development of bones in children, maintains bone health and prevents bone erosion in adults.

It also works as an effective food to treat Osteoporosis

.
It is a natural relaxant that helps in relieving stress and anxiety related ailments like anxiety, hypertension, depression and headaches. It also helps in relieving sleep disorders like Insomnia along with cerebral pains and Migraine.
It is proven to maintain healthy HDL (good) cholesterol levels & minimize the risk of stroke & heart diseases.
It helps in digestion, high level of dietary fiber in this cereal aid in proper digestion, normal bowel movement and prevent constipation &minimize the risk of developing other digestive disorders.

It improves milk production in Lactating mothers

.
Ragi not only helps in maintaining good health but also works wonders for maintaining youthfulness and vitality of skin by blocking premature aging.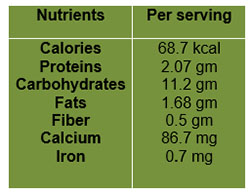 Ingredients:            Serves 1                          
Ragi Flour                       15 gm
Water                               180 ml
Buttermilk                       120 ml
Coriander leaves            1 tsp
Cumin powder                ¼ tsp
Salt                                    as per taste
Cumin Seeds                   ¼ tsp
Hing                                 a pinch
Oil                                     ½ tsp
Method:
Take the ragi flour in a pan, add water. Mix it well with a whisk without any lumps.
Cook the ragi flour on low flame for 8-10 minute until it's thick and shiny or until the raw smell leaves, stirring constantly to ensure that no lumps are formed.
Add salt & roasted jeera powder. Switch off the flame once done and cool it down.
Heat oil in a tadka pan, add cumin seeds and hing. Let the cumin seeds cracks.
Once the cooked ragi flour is completely cool (otherwise it gets curdled), add the buttermilk to it.
Mix it very well.
Then add chopped coriander leaves and the tempering/tadka. Mix everything together once again.
It's ready to serve. Can also add ice or refrigerate till cold. .
Please follow and like us: