Hummus can be a dip or spread, but is more often a meal. Hummus is fluffy, creamy, and silky smooth paste of Chickpea combination with white sesame seeds paste (Tahini) which makes it more nutritionally dense. A good source of plant based protein. Chickpea is also known as Garbanzo beans .
These not only provide micro-nutrients such as dietary fiber and potassium, but, are also good source of protein. As these beans low in saturated fat and are cholesterol-free, one can regularly include as heart-friendly, healthy pure vegetarian meat substitute. It contains a wide variety of micro & macro nutrients.
Hummus is often eaten with pita bread (a kind of whole wheat chapati) / ( check out my recipe of "Pita Bread").
The chickpeas, sesame seeds and grains combination makes it a "complete protein," that contains all essential amino acids, necessary for the body to acquire from food and to then use for its vaious functions.
It is an excellent option for people on a vegetarian or vegan diet. It is an Excellent snack for pregnant women. Consuming enough protein is essential for optimal growth, rapid recovery and strong immune function are very much essential for growing kids, pregnant & lactating mothers.
Health Benefits of Hummus:
Hummus is packed with healthy ingredients that may help combat chronic inflammations & illnesses.
This combination ensures to reduce hyperglycemia and help balance blood sugar, also help in digestion and intestinal health, helps maintaining bone health & muscle strength.
Chickpeas provide a variety of vitamins and minerals, a decent amount of fiber and protein present also helps in slow down digestion, hence promote fullness and keep your appetite under control. It contains almost all the essential amino acids.
Olive oil is rich in powerful antioxidants and have anti-inflammatory properties.
Sesame seeds on the other hand are used as tahini (paste), which may help reduce inflammatory diseases like arthritis.
In many countries hummus has long been a staple food, often served with bread for breakfast, lunch or dinner.
One can easy make hummus at home in a few simple steps.
Recipe for Hummus:
  Ingredients:                                                             Serves 4
120 gm                                                                  Chickpea soaked in water overnight
3-5                                                                          cloves of Garlic
1 tsp                                                                        Lemon juice
5 ml                                                                        olive oil
⅓ tsp                                                                       Salt
2 tsp                                                                       Tahini
1 cup                                                                      Ice Cold Water
Optional Toppings:                                            Olive Oil, Cumin, Chilli Flakes
Method:
Soak 120 gm Chickpeas in sufficient water for 6-7 hrs or overnight. Boil chickpea with some salt and garlic cloves for about 20 min in pressure cooker.
Peel the chickpeas, transfer boiled chickpeas directly to cold water. This will help in removing the skin very easily and it's really an important step to get smooth & creamy consistency. Most of the skins should just slide right off, but if not, just gently pinch each chickpea between your fingers. And don't forget to mash cooked garlic cloves.
In a blender, first blend together tahini & lemon juice for approx 30-40 seconds, this will give creamy consistency to puree. Add the olive oil, minced garlic, cumin, and salt to the whipped tahini and lemon juice. Again blend for 30-40 sec.
Now add chickpea in 2 batches blend them to smooth creamy puree. If you feel it's grainy add 2-3 tsp of water and blend again to get the desired consistency.
Drizzle some olive oil and chili flakes and serve hummus with your choice of dishes & recipes. Store homemade hummus in an airtight container in refrigerator up to one week.
Recipe for Tahini:
Tahini is a paste made from sesame seeds. Making your own tahini at home is not only easy but also cost effective. You can add to hummus, salad dressings, falafel, and to many more recipes.
A chickpea purée without Tahini is still taste delicious. Just add more olive oil to the puree. Adding sesame gives it a unique flavour with make puree more nutritious.
Ingredients:
20 gm sesame seeds
5 ml Olive oil or canola oil
1 tbsp approx. Ice cold water
Pinch of salt
Method:
Dry roast sesame seeds over medium-low heat, stirring constantly until the seeds become fragrant and very lightly colored (not brown), about 4 to 5 minutes. Transfer roasted seeds to a plate and cool completely.
Note: (sesame seeds can burn quickly be careful white roasting)
Add sesame seeds to blender jar with ice cold water, blend until a crumbly paste forms or for about 1 minute. Add oil then process for 2 to 3 minutes more, stopping to scrape the bottom and sides of the blender a couple times.
Check the tahini's consistency. It should be smooth, not grainy and should be pourable & runny. Add some more oil, if required. Taste the tahini for seasoning then add salt to taste. Process 5 to 10 seconds to mix it in.
Refrigerate in an airtight container. It can be stored for up to a month.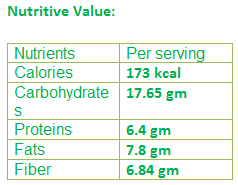 Please follow and like us: