Now, that the festive season has gone, it's time to get our health back on track after eating  sweets, chocolates, poories, fried snacks, papdi  chaat etc  It is important to clean the body and feel healthy once again..
What does detoxification means??
Well, detoxification means cleansing the blood, this is done by removing impurities from the blood and  liver where toxins are processed for elimination. The body also eliminates toxins through kidney, intestines, lungs, lymphatic nodes and skin.
What are these toxins?   
These toxins are the by-products of metabolism. Normally also these toxins are produced during metabolism, but when our daily diets contain macronutrients (carbohydrates, fats and proteins) in increased quantities as compared to the micronutrients, the quantity of toxins produced is more. These toxins are called free radicals. These free radicals are the cause of many chronic diseases and ageing.
How detoxification works!!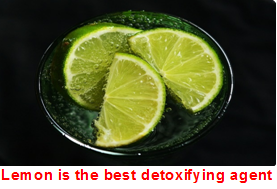 Detoxification helps to remove these free radicals from the blood and to improve health. However, there are lot of misconceptions that surrounds detoxification like fasting or following crash diets, etc. It is important to know that detoxification does not mean starving, it is just the removal of the toxins or free radicals from  the blood , improve the good bacteria and strengthen  the immune system.
 Post festive detox tips:  
Drink plenty of liquids to flush out toxins: keep sipping water and hydrate your body with green tea, aloe Vera juice ,lemon water, cucumber juice ,buttermilk, vegetable soup and coconut water or fruit and vegetable juices. 
Eat a lot of alkaline and antioxidant rich foods like apple, banana, berries, grapes, pomegranate, carrot, tomatoes, carrot, pumpkin, broccoli and handful of almonds, walnuts and raisins.
Limit consumption of acidic foods like refined sugars .alcohol, tea ,coffee, cigarettes ,fried food all of which act as toxins in the body and are obstacles to the healing process.
Eat smaller meals at regular intervals including more of fresh fruits and vegetables and reducing spices and heavy foods, especially rich gravies and too much of proteins during detoxification process.
Meditate, Exercise, do deep breathing exercises as these activate the vagus nerve, which calms the body and helps to reignite your metabolism.
Try going for a walk, to help clear excess glucose from the blood stream, so that digestion works smoothly.
Sleep well to rid away your tiredness, Proper rest improves metabolism and helps the body get rid of free radicles.
So, "eat wisely, exercise well to stay happy and healthy".
Contact : Nutritionist in Delhi
Please follow and like us: