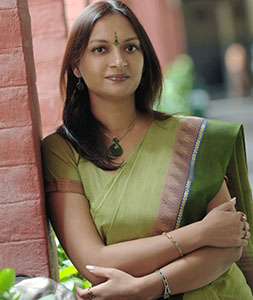 Dr. Kanika K. Ahuja is Associate Professor, Department of Psychology, Lady Shri Ram College for Women, University of Delhi. She also holds administrative posts of Media Coordinator and Convener, Placement Cell.
A gold medalist from Lady Shri Ram College and Doctorate in psychology from University of Delhi with JRF, she has about 20 years of teaching, research and professional experience. Her current areas of interest are organizational behavior, educational psychology, psychometry, and social psychology.
She has published several articles in leading journals such as International Journal of Teaching and Learning in Higher Education, Journal of Homosexuality, Indian Journal of Clinical Psychology, Vikalpa (a journal published from IIM-Ahmedabad), Asian School of Business Management, Journal of Psychosocial Research, among others. She has authored a book "In search of Indianness: Cultures of multinationals" (2009) and co-edited a book titled "The Child in the new millennium" (2002).
She has written two course texts for B.A. (Psychology), Indira Gandhi National Open University (IGNOU) on 'Introduction and Overview (Industrial & Organizational Psychology), and 'Attitude and behaviour' (Social Psychology) and one course text for M.A. (Psychology), Indira Gandhi National Open University (IGNOU) on 'Organizational Psychology'.
She has presented several papers and key note addresses in both national and international conferences.
She conducts workshops for parents, teachers and students in leading schools in the country, as also soft skill training and psychometric projects for corporate.
She has done research projects on conflict resolution and peace building in Kashmir, creating sustainable global partnerships in higher education, gender gap in mathematics, body image, and has recently concluded a project on enhancing self esteem among young school girls. She also delivered a TED-X talk titled "Mirror Mirror on the wall….I'm sexy, Damn you all" (Available at https://www.youtube.com/watch?v=Y1OepfcjTUs).
Besides her academic pursuits, she has written columns for leading newspapers like Hindustan Times and Times of India. She also conducts sessions for parents and students during HT Campus Calling.
If you have any query or if there is any specific information that you are looking for please get in touch with us using the form below

Please follow and like us: