Highlights:
Good for people with Diabetics, heart disease or high blood lipid values and weight watchers (can also be given to people with renal problems also after soaking and draining the mushrooms)
Special Tips:
Good dinner/Lunch Can be served with low fat curd.
High in fiber, Protein, negligible Cholesterol and is high in complex carbohydrates.
Has many antioxidants such as beta vitamin B6, D, folate and selenium
Ingredients:    Serves-3                                                                                                 Nutritive Values
Brown rice: 1 cup   
Mushrooms: 1 cup, sliced thin
Onions, large: 1, diced finely.
Tomatoes: 2, chopped into small pieces.
Green chilies: 2, split into two.
Ginger-garlic paste: 1 teaspoon.
Chili powder: 1/2 teaspoon.
Briyani masala powder: 1 Tbspoon
Salt as per taste.
Curry leaves and coriander leaves for garnishing.
Oil: 1 Tbspoon
Preparing Biryani Masala:
Required:  Whole spices like 2 small cinnamon sticks, 2 cardamom, 2 cloves, half a teaspoon of fennel seeds,
1 star anise, and 2 bay leaves.
These need to the sautéed in a teaspoon of oil.
Method:
Wash and soak the Brown Rice half an hour.
Heat a pan with a tablespoon of oil.
Add the diced onions and sauté for a few minutes until the onions are translucent.
Add the diced tomatoes, curry leaves, and ginger-garlic paste and keep sautéing until everything is well blended.  Add the chili powder, biryani masala, and salt and mix everything well.
Add the sliced mushrooms now, mix everything well, and cook under low-to-medium flame until the mushrooms are cooked.
Add 2 cups of water and cook closed under low-to-medium flame until the rice is cooked.
If cooking in an electric rice cooker, add 2 cups of water and set in the cooking mode (or brown rice mode). In case of pressure cooker, add 2 cups of water and cook for 3 whistles.
Serve with Low fat yogurt.
Nutritive value of Low Fat Yogurt: serving Size-125gms.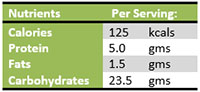 Know More – Best Dietician in Delhi
Please follow and like us: