Highlights 
Tikkis are made with various variations and are one of the most preferred high tea snacks. Corn and Capsicum Tikkis are easy-to-make tikkis and must with your tea specially during the ongoing monsoon season. The tikki recipe is made with corns, green capsicum, rice flour, green chillies (optional), green coriander . Serve hot with ketchup or chutney of your choice. This can be a perfect snack for your kid's tiffin which they will love.
Special Tips :
 Adding Potato can help to bind the tikkis easily, but adds extra calories.
It is powerhouse of antioxidants, being rich in vitamin C, vitamin E, vitamin A, vitamin B6, vitamin B12, Folic acid.
It helps to lower bad cholesterol, maintaining iron deficiency anemia, helpful in pregnancy.
Its high fiber content makes stomach feel fuller for long time thus reduces weight, managing the frequency of food eating.
Good for for your skin, hair and eyes.
Ingredients :                     Serving : 6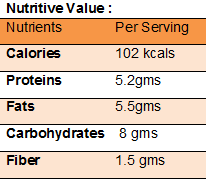 Sweet corn kernel                200 gm
Finely chopped capsicum   1 cup/125 gm
(red/green/yellow/mixed)
Green chillies                        2 tsp
Green coriander                   2 tsp
Rice flour                               2 tbsp / 30 gm
Salt to taste
Black crushed pepper         ¼ tsp
Chaat masala                       ½ tsp
Ghee/oil                                30 ml
Method :
Coarsely blend the corn.
Mix all the ingredients together in a bowl except rice flour.
Now gently add rice flour. Bind them together to get a dough like
Divide into 8-10 portions. Gently roll each portion between palm to form tikkis.
Let it rest for 5-10 min.
Heat tawa, grease with oil/ ghee.
Shallow fry tikkis 5-7 min from each side on medium to flame.
Serve hot with tomato sauce , mint or coriander chutney.
Please follow and like us: