Highlights :
 It's healthy, satisfying, and insanely crunchy! Perfect for lunch box, picnics. A perfect meal for weight loss. It also keeps well in the fridge for several days. You can make a batch and divide it into plastic containers for an easy lunch at least for 3-4 days. Good to reduce weigh, healthy for heart and also for the diabetics. Even the pregnant with low hemoglobin levels and other anemics can have it as an in between snack
 Special Tips :
Eating grilled chicken breast helps fill you up without the extra calories.
Apple cider vinegar helps to increase your energy level, helping to fight diabetes, improving your heart health, and supporting fat burning and weight loss.
It is low in calories, yet high in protein, which makes it perfect for weight maintenance.
It supplies plenty of vitamin A, vitamin C, vitamin K, vitamin B6, vitamin B12 and antioxidants.
Has good amount of phosphorus, iron, calcium, zinc, potassium, magnesium and fiber.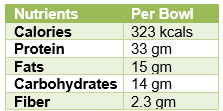 Ingredients              Serves 2 bowls
Chicken breast 1 piece / 200 gm (approx.)
Walnut kernels  20 gm
Red Grapes  50 gm (cut into halves & deseeded)
Cucumber                50 gm
Apple 50 gm (optional)
Iceberg Lettuce  5-6 leaves
Cherry tomatoes    20 g
Black pepper crushed   ¾ tsp
Mint leaves(fresh or dried) 3-4 leaves
Salt   to taste
Apple Cider Vinegar     1 ½ tsp
Lemon juice   1 tsp
Olive oil   1 tsp
Honey   1 ½ tsp (optional)
Roasted Poppy Seed   ½ tsp (optional)
Roasted sesame seeds   ½ tsp (optional)
Method
Marinate chicken breast with salt, half black pepper, lemon juice and mint leaves. Keep it in refrigerator for 5-6 hours.
Bake/ roast/ grill chicken at low till it becomes tender. Let it cool down at room temperature.
Meanwhile prepare salad dressing. Add olive oil, Apple cider vinegar, salt, rest of black pepper, honey, salt, lemon juice.
Cut the cooked chicken into small square pieces.
In a large bowl, tear lettuce leaves, add grapes, peeled & diced cucumber and apple, add cherry tomatoes, walnuts and diced chicken pieces.
Add salad dressing on the top of the salad and mix it well with the help of wooden spatula.
Sprinkle some roasted sesame seeds/poppy seeds. Serve chilled.
Please follow and like us: