Highlights:
Gujiya, a deliciously finger licking recipe to treat your family and friends.
It's a north indian delicacy. No holi celebration is complete without this tasty, crispy, mouthwatering Gujiya .
It's a flavorful sweet prepared in every state with different names ( Karanji, Karjikai, Kajjikayalu ) prepared on different occasions. Using olive oil and khandsari/khand makes this recipe more nutritious and healthy.
These gujjia in small quantity can also be given to Diabetic and health conscious people, as it has good quality fat. If you too stay away from this mouth-watering delicacy because of high calories, you can give a twist to this famous delicacy by using healthy dough and fillings.
Special tips :
Combination of wheat and sooji, using khandsari and dried coconut.
It helps in good digestibility, contains good amount of fiber and are good source of several vitamin and minerals (eg. selenium, magnesium, copper, phosphorus, folate), boost immune system.
Olive oil has numerous proven health benefits as it is good in omega3 fatty acids, contains good amount of antioxidants .
Khoya is very good for strengthening the bones and teeth as it rich in calcium.
Presence of riboflavin makes khoya an essential source of Vitamin B. Therefore it is good for a healthy immune system, energy production and maintenance of healthy hair and skin.
It is also a good source of vitamin D that helps optimize calcium metabolism and vitamin K that helps blood to clot normally, preventing type 2 diabetes, high blood pressure and heart attack.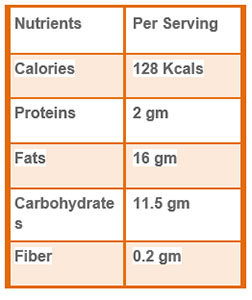 Ingredients               No. of serves 12
Maida                                     60gm
Whole Wheat flour              30gm
Sooji                                       30gm
Olive oil                                 20ml
Khandsari                             40gm
Cashew                                  5gm
Almond                                  5gm
Sun Dried raisins                 5gm
Chironji                                 5gm
Grated dried nariyal           10gm
Homemade khoya               50gm
Olive Oil for frying               as per the requirement
( very less oil absorbed about 5 ml per gujiya)
Method :
For making dough :
Take maida, whole wheat flour, sooji and olive oil in a bowl.
Mix oil with flour using your hands fingertips and palm to form a breadcrumb like texture.
Then add little water in parts to form a dough. Knead the dough till it becomes firm and smooth. Cover with moist muslin cloth and keep aside for 30 min.
For making stuffing:
Crumb the khoya/ mawa with the help of your fingertips to remove lumps.
Chop almonds and cashew. Dry roast grated dried coconut.
Add 1 tsp oil in pan and fry all dry fruits one by one . this helps to increase the shelf life and also enhances the flavour.
As i am using homemade khoya, there is no need of roasting it again.
In a big bowl add crumbled khoya, fried dry fruits, nariyal, khandsari/khand and give it a nice mix to the ingredients.
For making gujiya :
Divide dough into 12 equal balls.
Roll each ball in 4-5 inches round diameter, use oil for rolling .
Evenly place rolled poori on gujiya mould , apply little water on edge on the poori it helps to stick both ends perfectly together.
Carefully place 1 heaped teaspoon stuffing in each poori, make sure to keep edges empty otherwise gujiya may break while frying.
Carefully bring both edges together and press the mould edges evenly . Open the mould, carefully remove from the mould and arrange each stuffed gujiya in a wet muslim cloth for ½ hr rest and also dough doesn't dry out.
For Frying :
Heat olive oil in heavy bottom deep pan/ kadhai. Be careful as olive oil has different smoking point,  need to check the temperature before frying.
Gently slide gujiya in oil and cook on medium to low flame, change the side and fry till turns golden.
Transfer the fried gujiya on kitchen paper, cool them completely and keep it in airtight container.
Special consideration :
Don't fry too much to get golden brown color because due to wheat flour and sooji it turns too dark after keeping out from the oil and it taste bitter afterwards. You need be little careful while frying.
Don't put too many gujiya at a time.
To check the temperature of the oil, add the small piece of dough in the oil, if the dough comes up gradually,then the oil is ready. If the dough sits at the bottom of the pan, you need to wait for the temperature to rise up. If the piece of the comes up briskly and quickly, the oil is too hot for frying.
Please follow and like us: