Highlights:
 A Perfect drink for heavy workout freak people, athletic kids & sports persons, to boost up & regain back the energy level after or before. Jackfruit is sweet tasting fruit, with custard-like texture. The flavor is sweet, and tasting like a blend of banana, pineapple and mango.
Good for kids, during exams helps in mental alertness because it provides instant energy & good for all age group due to its vital & tremendous properties.
Special Tips:
It is rich in antioxidants, fiber, vitamin A, vitamin C, and it's particularly rich in vitamin B6 content. It is also a good source of minerals including calcium, potassium, iron and zinc. It's packed with protein and loads of other nutrients like vitamin B.
Jackfruit is a powerhouse of energy. It is a good source of calories but contains no cholesterol or saturated fats. It contains a high amount of carbohydrate and calorie that provides energy instantly.
Lectins found in jackfruit, helpful in protecting against certain cancers, specifically colon cancer. The dietary fiber found in jackfruit is also helpful in protecting against cancer, while also promoting bowel health.
Jackfruit contains high grade antioxidant dense with concentration of vitamin C. It strengthens immune function and protects from cold, flu, infections and critical conditions like cancer and tumors & also provides relief to people suffering from asthma.
It protects eyes from infections, improve eyesight and prevent vision related medical problems.
The antioxidant properties and high water content keeps skin healthy, moisturized and reduces the wrinkles and dryness retaining the youthful texture of the skin.
Helpful in maintaining good bone health with high calcium content, which also increases bone density.
This combination of smoothie also increases the body's capacity to absorb iron, thus preventing and curing anemia.
On the other hand, Coconut milk, improves heart health by lowering blood pressure and cholesterol.
Coconut milk is high in healthy fats, it also helps fill you up and prevent overeating or snacking throughout the day. Thus helpful in building muscles & helps lose weight.
It provides good amount of electrolytes and prevents fatigue caused after heavy workout and heavy sports activity.
Coconut milk is a very filling, fat burning food; it provides necessary fatty acids in addition to other minerals that support weight loss and detoxification.
  This smoothie helps to improve digestion and relieve constipation.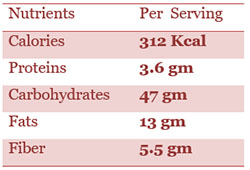 Ingredients:                                              No. of serves-2     
Ripe Jackfruit (flesh)                         200 gm
Thick coconut milk                             200 ml
Raw cane Sugar                                   20 gm
Ice cubes                                               4-5
Chopped ripe jackfruit                       2 tsp
(optional)
Method: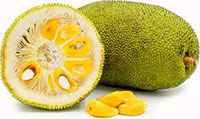 Chop the jackfruit, remove the seeds. Add the chopped jackfruit in the blender jar.
Add coconut milk & raw cane sugar, you can also use jaggery powder or refined sugar.
Blend till smooth & then add the ice cubes. Blend again. For thinner consistency add some water.
Serve jackfruit smoothie immediately topped with chopped jackfruits.
Please follow and like us: