Highlights :
A weight loss friendly snack. Perfect for children's tiffin, picnics, afternoon and evening snacks.
Good for weight watchers, kids, pregnant lactating mothers, due to its satiety value. You will definitely fall in love with its nutty taste. Good for the heart and the gut
Special tips:
It goes well with tea, coffee, milk shakes and smoothies.
A good protein booster, provides essential minerals like thiamin, magnesium, phosphorus, zinc, manganese, selenium, and iron, vitamin A, C and K.
A very good source of Antioxidant.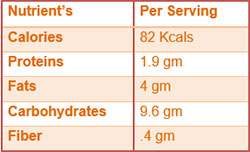 Ingredients :         Serves  15
Oats                             100gm
Chopped walnuts         20gm
Brown sugar                20 gm
All-purpose flour           120 gm
Granulated sugar          50gm
Baking powder             1 tsp
Baking soda                  ½ tsp
Salt                               ¼ tsp
Orange juice                 120ml
Yogurt                           100 gm
Egg                               1 large
Canola oil                      30ml
Grated orange zest       1 tbsp
Dried cranberries           30 gm
Method :
Heat microwave at micro convection mode for 5 min. Cover muffin mould with paper muffin liners.
For topping: Mix 1/4 cup of the oats, walnut, brown sugar in a small bowl; set aside.
Now combine all dry ingredients oats with flour, granulated sugar, baking powder, and salt in a large bowl.
Combine orange juice, yogurt, egg, oil, and orange zest in a small bowl. Add to dry ingredients and stir just until combined well. Stir in dry cranberries.
Spoon into muffin mould and sprinkle it with prepared topping.
Bake 8 minutes or until toothpick inserted in centers comes out clean. Cool muffins in moulds on wire rack 5 minutes, then remove from mould.
Please follow and like us: