Highlights
The efficacy of milk in our daily diet is well defined, it is a source of micronutrients that are extremely vital for the development and growth of our body.
This super tasty milk enriched with major healthy nutrients completes your morning breakfast or evening hunger. I ensure you that you will surely wait to drink it another day.
Good for growing kids, anemic people, reduces PMS symptoms, pregnant mothers, lactating mothers and for those looking to gain extra pounds. 
Special Tips 
This recipe is loaded with essential nutrients required for daily nourishment like calcium, proteins, magnesium, iron, zinc, phosphorus, vitamin A, vitamin B6, vitamin D, vitamin B12.
It contains important mineral for the healthy growth, functioning, repair, and durability of the bones and skeletal system. It will always have a significant role in people's diets, as a way of preventing calcium deficiency or osteoporosis, also protect body from major chronic ailments such as bone loss, arthritic conditions, premenstrual syndrome, and obesity in children.
The health benefits of this recipe include improved bone strength, smoother skin, and a stronger immune system.
It can be an after workout drink which help replenish your energy and provide essential nutrients for the development of muscles.
A glass of warm milk will help to relax tense muscles and soothe strained nerves. Milk has also been proven to reduce symptoms of PMS and boost energy.
Dry dates are considered to be a gold mine of vitamins, it's beneficial for improving our overall health.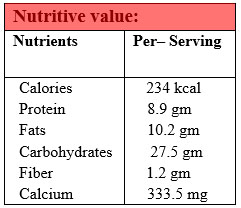 Ingredients:            No. of serves- 4
Toned Milk                         1 liter
Dry dates                            5 in number
Almonds                            10-12 in number
Khandsari                          30 gm
Kesar strands                     4-5
Method:
Soak almond & dry dates in sufficient water for 5-6 hrs.
Deseed dates, peel off almond, thinly sliced both.
Boil milk in thick bottom pan, add sliced dates, almonds & saffron strand.
Allow milk to reduce on low flame for 40-45 minutes.
Occasionally stir and scratch the milk deposits from sides of vessels.
Switch off the gas & add khandsari and stir it well.
Serve hot.
Notes: Refrigerator it for 4-5 days.
Please follow and like us: