Highlights:
Can you resist them NO, "No one can eat just one'' especially the kids. Super easy, super tasty, simple air fried/deep fried tea time snack and party snack, prepared with boiled potatoes, sweet corn, green peas and other dry spices. These cutlets are crispy from outside and soft and spicy within its inner layer.
Special Tips:
An excellent source of vitamin C & antioxidants.
A good source of potassium, vitamin B6, folic acid, sodium, fiber, iron, phosphorus, calcium, magnesium, and zinc.
Fiber content from this combination of ingredients prevents constipation and promote regularity for a healthy digestive tract, thus helps lowering the risk of Colorectal cancer.
It helps in maintaining healthy hair, skin, eyes, boost energy level.
Ingredients                                            No. of Serves (20 pcs)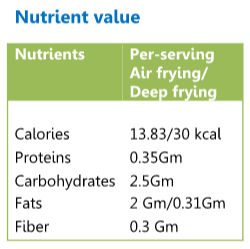 Boiled potato                                                    150 gm
Boiled corn kernels                                         20 gm
Boiled green peas                                            20 gm
Cornflour                                                          20 gm
Red chilli Flakes                                             1 tsp
Chat Masala                                                    1 tsp
Salt                                                                    acc. To taste
Oil for frying                                                   50ml
Coriander Leaves (optional)
Method:
Place the mashed potatoes in a large bowl.
Boil peas and corns for 10-15 min, let them cool, and then coarsely grind peas and sweet corn in a blender.
Add all ingredients together and knead them well to form a dough like consistency. Put few drops of oil in your palm and apply on dough as well.
Make 2 equal size ball and press it with fingers to spread evenly to form 8mm thick disc, apply oil if required.
Now with the help of a cookie cutter cut them all in different shapes.
Heat the oil in a pan/kadai, i used canola oil.
Deep fry 7-8 pieces at a time, fry them for 5-6 min evenly from both the side, turn the side in between. Drain excess oil and transfer them on kitchen paper.
For a healthier option choose air fryer, brush oil on love bites and place them into preheated air fryer container for 5 min each side on 180℃.
Serve with hot & sweet tomato sauce.
Note: 1. Taste best when deep fried, shallow frying gives different texture, so i always prefer baking or airfrying using just a brush of oil.
2. It is important to mash or grind peas and sweet corn otherwise it would splutter/burst during deep frying & it might cause harm.
Please follow and like us: