Highlights:
Dalma is a complete main course dish for vegetarians. It is a traditional dish and a delicacy of Orissa. It is easy to prepare and at the same time consists of healthy ingredients toor (arhar) /Chana/ Moong Dal and an assortment of vegetables typically raw banana, eggplant, green papaya and pumpkins, simmered in a special spice blend. Topped off with an aromatic tempering of panch phoron and coconut shavings seasoned in ghee, the dalma is aromatic and wholesome. It is one of the most comfort and staple food of Oriya people. Whatever the occasion, dalma adorns the menu. Dalma uses relatively less oil and is less spicy, but very flavorful.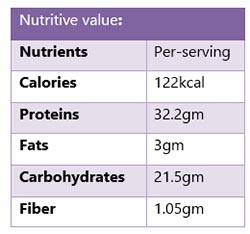 Special Tips:
1. The Dalma Recipe has the right combination of taste and health that is packed with proteins from the dal and other essential minerals and vitamins from the vegetables.
2. Serve the Oriya Special Dalma as a delicious one-pot dal along with steamed rice or jeera pulao.
3. Contains good amount of enzymes and minerals good for digestive tract.
4. Helps to burn extra calories as it is excellent in fiber content.
5. Diabetic patients and weight watchers can take this with missi roti.
Ingredients:                                         Serves 4
Arhar dal                                                 60 gm
Raw banana                                            50 gm
Raw papaya                                            50 gm
Pumpkin                                                 50 gm
Brinjal                                                     50 gm
Ginger paste                                          1 tsp
Garlic paste                                            1 tsp
Onion                                                      1 small
Tomato                                                   1 small
Coriander leaves                                  2 tsp
Jeera                                                       ¼ tsp
Hing                                                        ¼ tsp
Fenugreek seeds                                   ¼ tsp
Onion seeds                                           ⅛ tsp
Mustard seeds                                       ⅛ tsp
Red dry chillies                                      2
Roasted jeera powder                          1 tsp
Garam masala                                       ½ tsp
Bay leaf                                                   1
Salt according to taste
Turmeric powder                                  ½ tsp
Chilli powder                                         ½ tsp
Desi ghee                                                10ml
Fresh coconut                                        1 tsp
Water                                                      4 cups
Method:
1. Wash dal and all the vegetables. Soak dal for 10-15 min, meanwhile cut all the vegetables into small cubes.
2. In a pressure cooker add soaked dal, vegetables, salt, turmeric powder, chilli powder, bay leaf, add 4 cups of water. Pressure cook it on high flame till 2 whistles, then lower the flame for 2-3 minutes.
3. In a thick bottom pan, add desi ghee splutter bay leaf, hing, whole red chilli, ginger garlic paste, and add panch phoran masala, garam masala. Let it saute for 1 min, pour in boiled dal.
4. Keep flame, cook for 2-3 min, meanwhile roasted whole red chilli and cumin seeds in other dry pan, cool it n grind it coarse .add a teaspoon of this masala into the dal and mixed well.
5. Now add fresh coriander, fresh coconut shavings.
6. Serve dal hot and sprinkle some roasted red chilli and cumin seed powder on top to get the authentic taste.
Visit – Best Dietician in Delhi
Please follow and like us: