Highlights :
One pot preparations not only provides all essential nutrients in one meal but also saves time and energy in today's fast moving life.
Good for weight watchers, healthy heart and even diabetics.
Special Tips :
● Perfect for lunch or dinner.
● Low in calories, high in protein, perfect for weight watchers, can be changed easily with all other seasonal veggies and meats.
● Perfect full meal for all family members.
● Low in glycemic index . High in essential nutrients like potassium, manganese, antioxidants, vitamin A, C, K, and also group B vitamins, dietary fiber
● Improves digestion, good for heart, helps in may metabolic disorders.
● Maintain good cholesterol level, supports healthy tissue growth.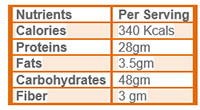 Ingredients :                                  No. of serving 4
Wheat spiral pasta                           200gm
English Carrot                                  100gm
Green zucchini                                 100 gm
Yellow zucchini                                100gm
Mushroom                                        100gm
Broccoli                                             100gm
Chicken breast                                 250gm
Crushed black pepper                    1 tsp
Salt                                                     acc.to taste
Chilli flakes                                       ½ tsp
Honey                                                1 tbsp
Olive oil                                             3 tsp
Lemon                                               1 tsp
Apple cider vinegar                        2 tsp
Garlic crushed                                 2 tsp
Method :
Cut chicken breast into small pieces. Marinate chicken with lemon salt and pepper for about 2-3 hrs.
Boil pasta in thick bottom pan with 1 tsp of salt and 1 tsp oil for about 10-12 min. Strain the pasta and keep aside.
Heat 1 tsp oil in pan/wok, now stir fry all vegetables separately one by one on high to medium flame for 4-5 min.
When all vegetables are done. Add 2 tsp oil in the same pan/wok add garlic and marinated chicken breast pieces cook until tender, when cooked properly add apple vinegar, salt, crushed black pepper, chili flakes, honey. Stir for 1 min.
Now add boiled pasta and all vegetables mix all ingredients properly at high flame for about 1 min. Switch of the flame.
Serve hot.
Please follow and like us: