Highlights:
It's a good treat for weight watchers during the winters. It is good to increase hydration during the winter season and also helps to relive constipation. Vegetable soup is good for the cardiac and diabetic individuals also with its low GI of just 4 per soup bowl.
Special tips:
It is an antioxidant rich treat for winters.
Vegetable soups are rich in Vitamin A, Vitamin E and fibre to improve Gastro intestinal functions and help to clean the body of free radicals.
Very low in calories and fats.
To increase protein content vegetarians can add black chickpea (Kala channa) or even peas and for non-vegetarian's egg drop could be added.
Serves– 2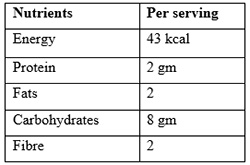 Ingredients:
Bottle gourd/ Ghia— ½ small gourd/ 40-50 gm
Tomato—1 small/ 40 gm
Cabbage– 20 gm
Beans—10 gm
Carrot—20 gm
Corns—10 gm
Mint/ pudina—5 gm
Vinegar—1/2 tsp
Salt—as per taste
Pepper—1/2 tsp
Methods:
Roughly chop all vegetables.
Take a pressure cooker, fill 1/3rd of cooker with water and put all chopped vegetables into it.
Boil the vegetables for 15 min, remove the pressure cooker from the gas and open it's lid and keep aside to let it cool.
Blend all the cooked vegetables along with water into a blender.
Strain the soup from the mixture and remove the solid part(fibre content).
Now put the soup mixture into a pan and let it boil for over the flame for 2-3 mins, meanwhile add salt, pepper and vinegar to the soup.
The soup is ready to serve. Serve hot in a soup bowl with mint leaves on the top.
Or
Instead of blending the vegetables can be eaten to increase the fibre value.
Please follow and like us: