Highlights:
Made with whole wheat and apple, this low-calorie cake will tingle your taste buds this Christmas, while taking care of your weight. Great option this season for the weight watchers, renal and even cardiac individuals.
Special Tips:
Low calorie, low fat per slice of this treat can be enjoyed by renal and cardiac individuals also along with others.
With the goodness of apple and whole wheat this cake has good fibre content.
Orange can also be used in place of apple for taste change along with its peel for taste and nutrient benefits.
Ingredients:            No of Servings: 10 slices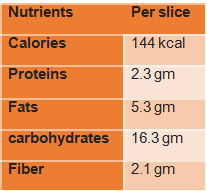 Wheat flour – 1cup (120g)
White flour – ½ cup(63g)
Baking powder – 1 tsp (5 g)
Baking soda, – ½ tsp (2.5g)
Cinnamon powder – ¼ tsp (1 g)
Apple -1 large (200g)
Sugar -3/4 cup (60 g)
Refined oil – 50 ml
1/4 tsp ginger powder (optional).
Method-
Sift all the dry ingredients together and keep aside.
Now peel and grate the apple.
Mix with sugar and cook in a non-stick pan on medium heat until the sugar melts. Don't cook for too long.
Switch off the gas and add the oil. Also let it cool down.
Shift to a mixing bowl and add the dry ingredients little by little.
Mix well with the whisker. Please remember the mixture won't be flowy like the cake batter. It will be little thick.
Now pour the mixture into a well-greased and dusted baking tin. Bake at 180◦for 30 or 35 minutes or until done.
Make sure to keep on the middle rack and only lower rod on. Please check the settings of your oven.
Take out the cake and let it cool for some time at room temp. before serving.
Tips:
You can even serve it hot with liquid chocolate/strawberry syrup. Or simply with icing sugar.
You can give different shapes using any of the cake mold.
You can even put dices or slices of apple into the mixture.
Please follow and like us: