Festivities and sweets go hand in hand; any attempts for following a diet are thwarted during festival season. The celebrations of festivals remain incomplete without the sinfully delicious, mouth watering, irresistible, calorie laden sweets and snacks. With all these it is easy to give in to the temptation and gorge on the mithais and chocolates that keep pouring in
To avoid accumulating those extra pounds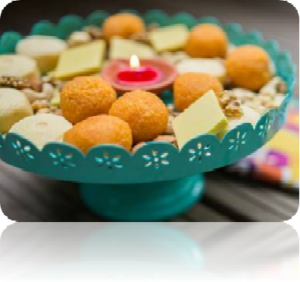 and to avoid the common dietary and lifestyle mistakes, follow these 6 simple tips while enjoying the celebrations:
1. Eat proper breakfast: Ensure taking proper and sufficient breakfast containing whole grain cereals and some good protein source such as milk, eggs or paneer, etc. this will ensure decreased consumption of unnecessary calories during the day.
2. Drink plenty of fluids: this not only keeps one hydrated during this change of weather it also ensures decreased intake of calories. Fluids to be included are fresh water, green tea, fresh coconut water, lemon water, Buttermilk/lassi, etc. Avoid drinking tea/coffee and carbonated beverages, alcoholic beverages and also cocktails and mocktails. All these give empty calories, case accumulation of extra fat and dehydration.
3. Include plenty of fresh fruits and nuts and avoid use of refined sugar (white sugar) : Fresh fruits and nuts are rich sources of vitamins minerals, fiber and antioxidants. These improve the immune system and also prevent many chronic diseases. These are better than eating sweets and chocolates and packaged juices which are high in simple sugars and fats. Opt for jaggery and brown sugar while making sweets at home.
4. Avoid reuse of oil at all costs. Some sweet shops reuse oil while frying sweets and snacks. Reheating of oil produces trans fats in the oil and free radicals in the body. Both are responsible for clogging the arteries and cause acidity and heartburn. It is better to choose from non fried sweets made from cottage cheese and steamed snacks like Dhokla and idli.
5. Avoid Both feasting and fasting . Do not remain hungry or skip meals and also avoid eating big meals. Eat proper meals, so as get sufficient nutrients and avoid overindulgence. Both feasting and fasting are not good for health. Practicing portion control is important as overeating may cause rise in the blood sugar and cholesterol levels and strain liver and heart.
6. Some amount of daily physical activity is good and must be continued and if not possible during the busy festival season, deep breathing exercises 10 minutes twice daily would prove good.
Special tips:
• Eat Regularly Eat Healthy
• Drink minimum of 8-10 glasses of prescribed liquids
• Include vegetables and fresh fruits in daily diet
• Opt for nuts rather than sweets
• Exercise daily
• Avoid fatty food instead choose from steamed and roasted foods
• Avoid white sugar, use jaggary instead.
• Avoid alcohol, packed juices, moctails and cocktails. Drink lemon soda or smoothies instead.
Prepare easy to cook homemade kheers and desserts using natural ingrediants and little or no sugar. Some great ideas for sweets during festival season are ghiya kheer/ burfi, apple kheer, sweet parwal, fruit custard, pumpkin halwa, paneer pudding, rice-almond pudding, apple pudding, dates and almonds burfi and carrot burfi.
You can also try Healthy Nudges festival special healthy sweets and drinks: the bone health drink, Nutri ladoos and heart healthy ladoos. (See the recipe section)
Free Consultation with Top : Nutritionist Near Me
Please follow and like us: