Highlights:
A combination of high quality protein and good fat.
Chicken is considered to be the lean meat and it is a complete source of protein such as essential amino acids used to build and repair tissue in the body.
It's a superb recipe for gym going individual as it's a natural source of protein and in 100 gm provides 20 gms of protein.
Also beneficial for people trying to loose weight and looking for a tasty healthy option.
Despite of all, this recipes also good for diabetic as well as cardiac patients as it provides good fat and protein which also makes them feel satiated for longer.
Chicken breast is also low in carbohydrate. It's a great option for your lunch or dinner.
You can also use vegetables of your choice for the stuffing.
Ingredients:
Chicken breast—200 gm                                                                  Serves-2
For stuffing:

For gravy (optional):

Onion— 30 gm
Tomato—30 gm
Sweet corns— 10 gm
Red, yellow, green bell pepper— 20 gm each
Paneer/ cheese— 20 gm
Green onion(optional)—10 gm
Ginger,garlic paste— 5 gm
Oil— 10 gm
Salt—as per taste
Pepper— ½ tsp
Ginger,garlic paste— 5 gm
Onion— 100 gm
Tomato— 100 gm
Green chillies— 10 gm
Haldi— ½ tsp
Salt— as per taste
Garam masala— ½ tsp
Dhania powder— ½ tsp
Chicken masala— 1 tsp
Kashmiri lal mirch— ½ tsp
Oil—10 gm
Nutritional Value: Per serving-100 gm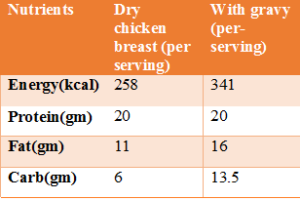 Method
Wash chicken under running water and keep it aside.
For stuffing:
Boil sweet corn for 15 mins and roughly mash them.
Now finely chop all other vegetables and keep them aside.
Mash paneer or grate cheese and keep it aside.
Now take a pan and add 5gm oil in it.
In hot oil add ginger garlic paste and all chopped vegetables together into the pan and stir them for a min.
Now add sweet corn, mashed paneer, salt and pepper into the pan, cook for 2-3 min and take out the stuffing into a plate.
Now take a knife and make a cut from the side of the chicken breast ½ inch away from the sided so as to make a hole into the chicken to fill the stuffing.
Now stuff the chicken breast with the above made vegetable and paneer stuffing.
Tie the chicken breast with a thread to close the ends.
Now take remaining 5 gm oil into a non-stick pan and put stuffed chicken breast into it.
Cook the chicken breast on slightly low flame with a cover lid.
Check in between and turn the chicken to other side. Cook the chicken from both the sides until golden brown. (you can even grill the chicken breast over a griller)
Remove the thread, cut it into two, three pieces and serve hot with a lemon slice.
For Gravy
Chop onion, tomato and green chillies separately for gravy.
Now take a pan and add 10 gm of oil to it. Into the hot oil add ginger garlic paste along with green chillies followed by chopped onions. Let the onion cook until golden brown.
Add all the dry masala except chicken masala, into the above onion mixture. Add little water to it and stir well and let it cook (slightly low flame) again for another 1- 2 min.
Now add chopped tomatos into the above pan, and again add little water to it and cook it for another 5 mins.
Now add chicken masala to the above mixture and 1 cup water and let it boil for 1 min to make little thick gravy.
Now take a bowl and put cooked chicken breast (thread removed) into it and pour prepared gravy over the chicken breast. Garnish it with fresh coriander (optional).
Serve hot with chapatti or 1 small bowl brown rice (optional).
Please follow and like us: